Note: the production is the second in the St. James Theatre's opening season and opened last night, October 31st. I attended a special preview performance yesterday afternoon.
DADDY LONG LEGS is, in one word, a charming musical. A two-hander, the show is carried equally by both players, though Megan McGinnis as Jerusha Abbott is certainly dominant to her anonymous benefactor "Daddy Long Legs" – Jervis Pendleton, played by Robert Adelman Hancock. Paul Gordon's music seems familiar – not in the plagiarism sense, I should say – but that it is almost never intrusive to the story, it complements it; there are no song and dance numbers here. It is often catchy and yet in the background. We are taken out of the story only twice: in the interval and at the curtain (though there is none) call.
Set just after the turn of the last century, the convincing performances allow us the privilege of being in the moment with the characters. We never once feel superior to Jerusha's innocence and naivety in the world she discovers, from our own knowledge of everything before and indeed since that time. The story is heartbreakingly sad, clever, amusing and beautiful all at once.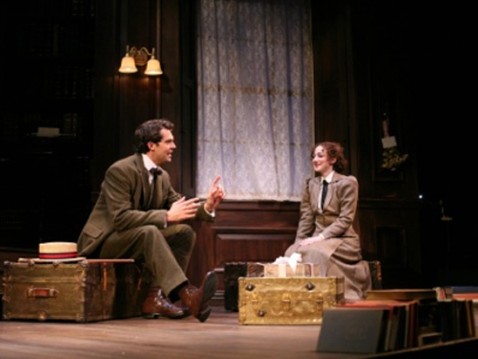 David Farley's single set, a floor area containing books and a set of trunks, and an upper deck with a library and office desk is functional – costume changes are carried out without fuss with items being taken and put back in the trunks, for example – and with no scene changes, remains much the same throughout the story. As both characters are always on stage, the set is usually divided with Paul Toben's lighting separating the two locations. The use of projection to show the dates and locations of Jerusha's letters at the top of the wood panelling is clever and reminds me of a similar technique Sam Mendes used in his production of RICHARD III last year. Being in a handwritten style, it is unobtrusive, unlike Mendes's bold use of lettering to characterise scenes.
The lack of any break between scenes allows the story to flow much more readily, perhaps truer to the diary format of the Jean Webster novel that John Caird's book is adapted from. An idea that would seem to drag on paper – two actors reading letters aloud – works perfectly on the stage and never does slow down. Certain songs, or letters I should say, for these make up the bulk of the lyrics – are sung in counterpoint, or with Jervis harmonising or echoing what Jerusha has written to him. As he reads her letters to Daddy Long Legs and Jervis – who of course are one and the same – the two will sing alternate words, sentences, sometimes overlapping but never confusing. It's very cohesive, tight, and well-rehearsed. These actors clearly know the material well, having been in the original production in 2009, and it shows.
DADDY LONG LEGS is produced by St. James Theatre Productions and the Rubicon Theatre Company (Michael Jackowitz). Megan McGinnis and Robert Adelman Hancock are directed by John Caird (LES MISÉRABLES, CHILDREN OF EDEN) and music is by Paul Gordon (JANE EYRE), with lighting by Paul Toben, set and costumes by David Farley and book by John Caird. 31st October – 8th December 2012 at the St. James Theatre, London. You can book tickets online.